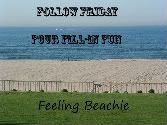 Thanks to Hilary and Pam for hosting...
This week's statements:
1. The last time I was on vacation, I went to
Canada to visit family and friends.
2. For
anytime
I like to eat
real food, not this diet stuff I am on. I will say however, it is working even if it is tough to follow. If you flip to the Friday Fragments post, you can read about it.
3. My heart hurts when
I watch the news
because
it is no longer the news but rather people shouting talking points at one another
.
You can read my blog post yesterday on this topic
.
4. Why must
paperwork be so plentiful
just to
complete a simple task?