Thanks to Hillary @ Feeling Beachie and the Fantastic Mrs. 4444's @ HalfPastKissinTime for hosting the hops.
First the Fragments:
What a week! It started last Sunday with a trip to Baltimore for a series of three conferences related to hotel sales and marketing. It was a great week!

On a related note: I wrote a review of Baltimore that you can read here. It is a interesting city with a lot of personality. Come back Sunday to see even more great photos.
On a related related note: I saw this family of ducks during my walk of the inner harbor area.
In terms of the conference trends, prices for hotels are becoming more like the airlines in that they are not keeping pace with inflation. Heavy competition combined with consumer price sensitivity are keeping prices down.

On a related note: Best night to have a hotel night vacation Sunday & Monday. Generally you will get the cheapest rates those two nights.

The best part of the conference was getting to know one of my colleagues better. We both have large families while trying to balance an academic lifestyle.

On a related note: Is it not funny that we often have to leave town to get to know people better. That is the real power of travel.

There is a new website/ App called Hotel Tonight. It seems to be making a big splash in the industry and has a buzz about it. It is just for 'day-of' booking and I have been watching it over the last week. It is producing some amazing deals.

On a related note: The issue of rate parity is very hot right now. Rate parity is when the hotel has to offer the same rate on sites as Expedia and Travelocity that they do on their own. The hotels do not like this as they are typically paying a minimum 15% commission to the online travel agencies. Here is a travel hint: If you find a great deal online, call the hotel directly and they should rate match. Plus you will get your points etc. from the hotel chain and other benefits that usually do not come with booking with an online travel agency.

Upon returning, Heather and I had a great date night in Niagara on the Lake, Ontario. The town is a great example of a place that has worked hard to keep its historical integrity.

On a related note: Sometimes I really enjoy being a couple again. We had some great couples fun on our drive back to Toronto from Buffalo.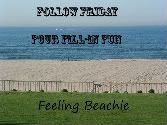 Now some Follow Friday Four Fill-In Fun:
1.
The Big Bang Theory
makes me laugh...
2. Sometimes
reflection
makes me sad. See
my post
on Tuesday as evidence.
3. My
bank account
looks
sad
after
paying bills
.
4. When I hear
about my former students success
I
feel very happy for them.
I got to see two of my former students in Baltimore this week. It was great to hear how successful and happy they are. BTW - if you ever get to Baltimore, try Sullivan's...