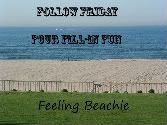 Thanks to Hilary for hosting Four Question Friday.
This week's statements:
1. I am very happy with life at the moment.
2. I am most comfy curled up reading a book.
3. You will never believe what I saw on my way to work.
4. My mornings don't start until consciousness happens.
.