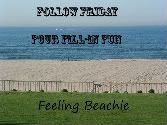 Thanks to Hilary for being a gracious host.
This week's statements:

1. Given the choice of football or baseball for free tickets I'd pick hockey or basketball.

2. If you told me I would become an academic in highschool I would never have believed you. I hated school back then.
3. The last time I cooked filet mignon it came out very tasty.
4. My favorite color is blue but Heather says I look much better in other colors.