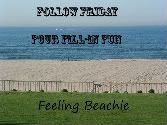 Thanks to Hilary at FeelingBeachie for hosting the Friday Four Fill In....
This week's statements:
1. I wish I had
the ability
to
foster world peace.
2. I stopped wearing
leather ties in the 80s...
3. My favorite song right now is
Pink Floyd's - On the Turning Away
because
it is a true love song
.
4. I always sing while
dancing in the rain
.