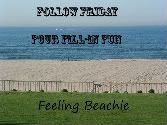 Thanks to Hilary at Feeling Beechie and her co-host Januce for hosting Four Fill-In.

This week's statements:

I consume so much caffeine in a day that I am on a perma buzz.
I don't like politicians but I love politics. It is the art of the possible.
When I watch the news I cringe.