First to the Unknown Mami and the FF.
Back in the office this week and life is going 100 miles an hour. While it is good to get away (even for work) there is always extra payment when one returns. It is just the trade you have to make.
On a related note: One would ask why I am not considering going back again to China next year for three weeks. It is because the experience helps you grow and develop. Being outside one's comfort zone is a good way to discover who and what we really are.
Our boys are not good sleepers. That seems to make life as a parent that much more challenging. The worse part is that they are not consistent. One night you may get four hours and another you will actually get eight. There seems to be no rhyme or reason to it.
On a related note: Heather and I didn't even get a date night while in Canada. At some point we have to carve out time together. It may have to be a 2:00 AM soiree.
This weekend I will be collecting data. I have couples coming into my lab to plan a weekend getaway. We will be examining their negotiation patterns as part of the process. I think it is a very cool study and I have really been looking forward to doing it.
On a related note: If you are in the Charleston area and are part of a couple and want to help me out, please send me a note at smithww@cofc.edu. The incentive is pretty good, a free nights stay at Wild Dunes Resort.
Now it is time for Hilary and the Friday Fill Ins.
This week's statements: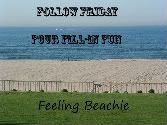 1. I never
have enough alone time with my wife.
2.
Small talk
is hard for me
3. My favorite place is
Toronto
to vacation in the
summer
because
between grandparents and the cooler weather, it is actually sort of relaxing.
4. The best concert I've seen was
Pink Floyd
in
the early 90s
because
they are just awesome.
My favorite song of all time...