My apologies to Brenda. I have missed a couple of weeks of Pondering. I am however, back this week to address today's prompt:
Watch
I once watched the game from the sideline...
hoping, desiring to get into the game.
The play was fast and furious - the game intense.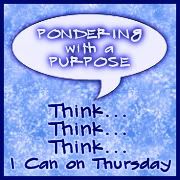 It was however, in slow motion to me
a game which was taking far too long to complete
The referee looked at his watch and blew the whistle for halftime
I had missed half the game.
At the half the coach told me my time watching was over -
that I was to move from the sidelines into the game.
The game itself slowed down as one team started to dominate
Those watching in the crowd started to lose interest.
For me the however the game was flowing and masterful
The watch hands moving way too fast for my enjoyment.