Thanks to Joy, Ms. 4444's and Hilary for hosting Friendship, Fragments & Four Fill In.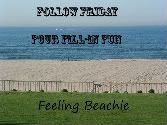 First up this week is Joy. The question she poses this week are:
What do you prefer: Printed Books or E-books?
To be honest, I am still a paper kind of guy. I much prefer to have a book in my hand. There is something to be said about the printed that appeals to me.
What do you prefer: Desktop Computers, Laptops, or Tablets?
I have all three and each has its role. I prefer to do my research work on my desk top. I have a two screen set up that really works well in my office. I prefer my Laptop for web surfing and blogging. I can sit in my comfy chair then. My tablet, I prefer in the classroom and for taking photos (and editing said photos).
Now it is Hilary's turn. First and foremost, CONGRATS TO HILARY ON 100 FILL IN FRIDAYS!
This week's statements:
2. I never liked the TV Show Seinfeld. Most people would think with my personality and humor that it would have been perfect for me but I found it to be overly cynical bordering with the characters displaying disagreeable traits most of the time. They were funny with malice way too often. Though apparently you can use the show to demonstrate Bloom's Taxonomy of Learning.

3. If I were Heather I would most definitely trade up.

4. I blank when I blank...
Last but not least, it is Ms. 4444s and Friday Fragments.
I have been so busy lately that my blogging has definitely suffered. More so, my visiting has really suffered. My apologies to those who are looking for my visits. I promise to get better when life settles a little (only one more week of schedule nightmare).

On a related note: I missed Friday Fragments for the first time in forever last week. I sure you all noticed. If not just say you did and assuage my ego.

Sleep is a commodity in our house lately. Its value akin to gold, privacy or sex.

On a related note: We are looking forward to grandparent visits soon.

I made a critical error this week. I looked at the ingredients on my can of Coke Zero.

On a related note: Is it possible to have caffeine delivered intravenously?

Heather and I are actually sitting in the same room? What should I do?

On a related note: Blog of course. We live a sad existence at times.