Thanks to Joy, Mrs. 4444's and Hilary for hosting Friendship, Fragments & Fill Ins Respectively.
Let's start with Hilary this week.
This week's statements: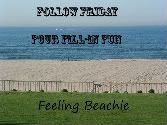 1. I was probably the only kid in the world who
on a trip to the fire station asked the how much their water bill was.
2. Blueberry is my favorite juice
3. I never thought I would be considered smart until I got my PhD. The funny part is that I am really not all that smart. I just work really hard and am willing to listen to actual smart people.
4. I have always wanted to visit a South Pacific Island but my bank account says no.
Now onto Mrs. 4444's and the Friday Fragments...
Today is going to be my first sort of slow day for three weeks. Two conferences the past two weekends combined with 12 hour days in between and Wayne is one sore, tired guy.

On a related note: Heather is sprinting out the door for her Friday morning volunteering. Something about being sick of the kids...

I am working 12 hours days at the moment and the to-do list is not getting shorter. I would understand if was not being productive but I am actually working hard...

On a related note: How come the stuff I actually want to get to on my to-do list is what I can not get to (read: my research). I have some cool projects at the moment.

I am integrating more and more technology into the classroom lately. I am having with Syncpad. This app allows my iPad to take over the classroom computer and essentially turn it into a smart board.

On a related note: I have my students out this weekend 'interviewing tourists' with their smart phones. I use a survey system called Qualtrics. The students collect all of the data, I then flip the data into an Excel sheet which they use in their stats class. They then bring in the stats that they are producing in that class back into mine where we are going to do the interpretation. Sounds smart doesn't it?

My parents got back from vacation last Monday and I have not talked to them yet this week. I am a bad son.

On a related note: I have barely talked to Heather this week - so I am bad all around. Perhaps we need to find a night where she could discipline me...Oooooppppsss TMI!
Last but not least is Joy and Friendship Friday....This Week's Theme Is Books!
What type of books do you like to read?
I will read just about anything. Heather especially enjoys it when I read one of her romance books aloud over her shoulder.
Are there any genres you try to avoid?
I apparently need to develop more of an appreciation for romance novels.
What are you currently reading?
I am currently reading an analysis of how Cicero - not a military guy in the least - was able to rise up the political ranks in Rome - all the way to being voted Council. He speeches are still talked about today even though he had a noticeable speech impediment. He got to the top by pure guile (unheard of in that time). What he did would be an amazing story today but to do it in the time that he did - was truly astonishing.