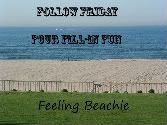 Thanks to Hilary for hosting. This week's statements:
1. I have always dreamed of visiting a South Pacific Island.
2. My word is my bond.
3. I love to XXX when I YYY.
4. I will never forget the Match Game with blanky blanks.
Thanks to Mrs. 4444's for hosting...
It was bitter sweet seeing the graduating students today... I will miss many of them but I wish them the best of luck in their post graduation life.

On a related note: I now only have a month left on my Sabbatical. Oy vey! I have enjoyed the freedom of the sabbatical. I am not really looking forward to going back to 11+ hour days in my office...:-( I love my job but sabbatical has been a very nice break.

Send Heather on www.ActingBalanced.com get well wishes. She has a head cold combined with losing her voice. The kids do not know how to handle not being yelled at...

On a related note: Is there anything a husband can say when their wife loses their voice that will not get them in trouble?

Heather has gotten into the series Rules of Engagement. I will admit it is actually cute at times but she is almost through six seasons in about three weeks.

On a related note: I got Erik into Transformers (the kiddie version - no violence). They are more than meets the eye don't you know. He loves the transforming sound. He thinks it is funny. Now all I have to do is get him into comic books so that I can relive my childhood without feeling like a total nerd.
Heather and I broke a record this week for the most people linking up with our Wordless Wednesday! I am thinking we are going to try for over 100 link ups this week. Hope we get there. Why don't you drop by on Tuesday/Wednesday and help us out with reaching this record?

On a related note: Check out Heather and I's Monday Quiz About Me and Thursday's Thirsty for Comments memes as well.