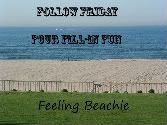 Thanks to Hilary for hosting the Four Fill In Friday...
This week's statements:
1. I put ketchup on a hot dog

2. When it gets tough I get going.

3. If my house was clean then I would be able to more guests over.

4. If I was getting married tomorrow I would budget differently so we could spend differently now.