Thanks to Mrs. 4444's for hosting Friday Fragments.
This week my week involved spending from 5:00 AM to about 8:00 PM at a golf course - well, here is the story better than I can write it.
WCIV-TV | ABC News 4 - Charleston News, Sports, Weather
Special thanks to Heather for being a single parent this week..it was as tough on her as it was on me. I have been thinking a lot about the sacrifices she has made for me and my students over the years. It is her willingness to be supportive that allows me to create the environment for me to do these types of special work.
On a related note: I am sorry this about not visiting other blogs this week. My schedule combined with my exhaustion has lead to me being a bad bloggy follower. I vow to get my to my normal visiting powers next week.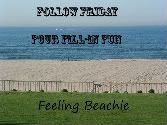 Thanks to Hilary for hosting Four Fill In
This week's statements:
1.When I was little my mom
spent a lot of time watching me play baseball. I am sure it was really boring for her.
Trojan is my favorite condiment (oohhhh you said condiment - lets go with mustard)

I don't like to celebrate holidays because I am not a corporate shill. I celebrate my family everyday instead.

My ­­­­­­­ego takes up more space than my id and I can never clear my conscious.