Thanks to Hilary @ Feeling Beachie for hosting Four Fill in Fun.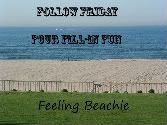 First, the Friday Four Fill In Fun:


1. I love a rainy night too...I guess me and Hilary have a case of two great minds thinking alike.

2. If I could XXX anywhere I would XXX

3. When I grow up, I want to teach the world to sing, in perfect harmony.


4. The best baseball game I ever saw was the Jays second World Series win where Joe Carter hit the game winning home run.